I Can't Get The Demos To Play. Can I save them and listen to them later?
The demos will play by left clicking on the DEMO

icon or demo hyperlink (e.g. BT2185 BIGGEST PART OF ME - AMBROSIA). By right clicking on the DEMO

icon or demo hyperlink you can save the demo file for evaluation later in your favourite MIDI playback device.
To enable playback from your PC you must have Windows Media Player or some other form of media playback software installed correctly. You should find Windows Media Player on your PC at "C:\Program Files\Windows Media Player\WMPLAYER.EXE" or START>PROGRAMS>WINDOWS MEDIA PLAYER. You can get the current version of Windows Media Player from www.microsoft.com.
Windows Media Player also needs to be associated to MIDIfiles to enable playback. If you are not confident in making changes to your system, please do not attempt the following changes as you may disable other media playback devices. Get someone who knows what these changes can do to help you. We will not be responsible for things going wrong. If you are confident in making system changes, follow the guides below. To check the association, right click a midifile on your PC and select properties. You should see something similar to;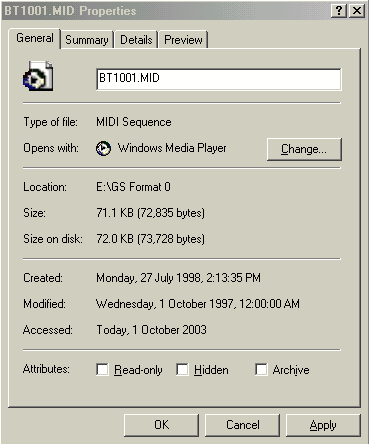 or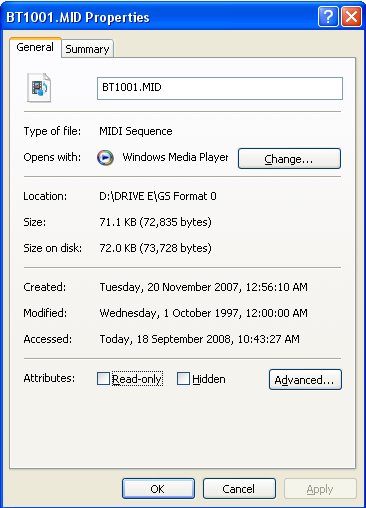 The important parts are the Type of File: and Opens with: They should be set as in the image above. To change the Opens with: click on the Change button. You will see a list of association options similar to the following images.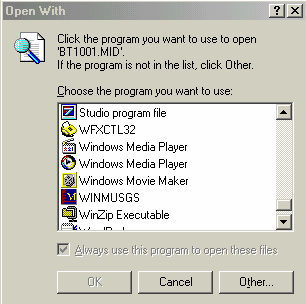 or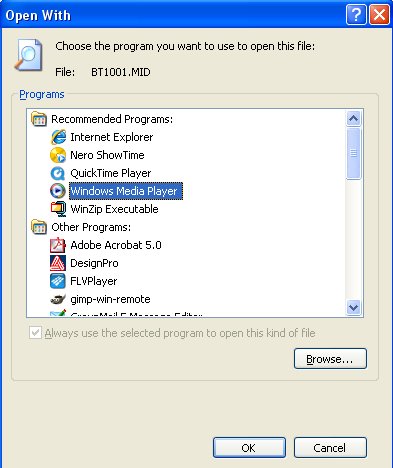 Scroll down and view the Windows Media Player options. If you have more than one Media Player option, select the one with

as shown in the images above.
If the MIDIfile property box does not show Type of File: MIDI Sequence: you will need to establish this connection. This gets a little more tricky. You need to go to My Computer > Tools > Folder Options > File Types. You should see something similar to;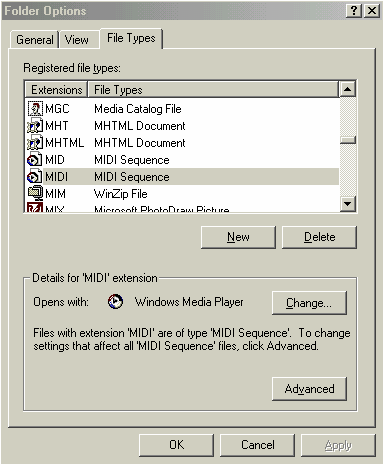 or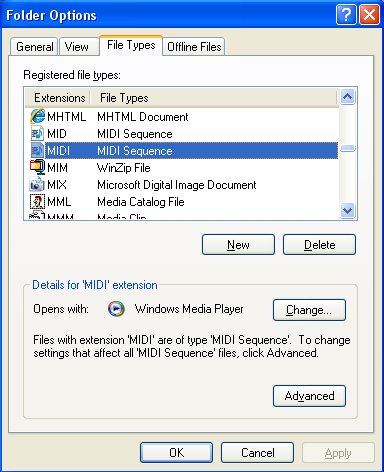 Scroll down and make sure that MID & MIDI are associated to MIDI Sequence and Opens with: Windows Media Player.